Accessories That Will Complement Your Church Outfit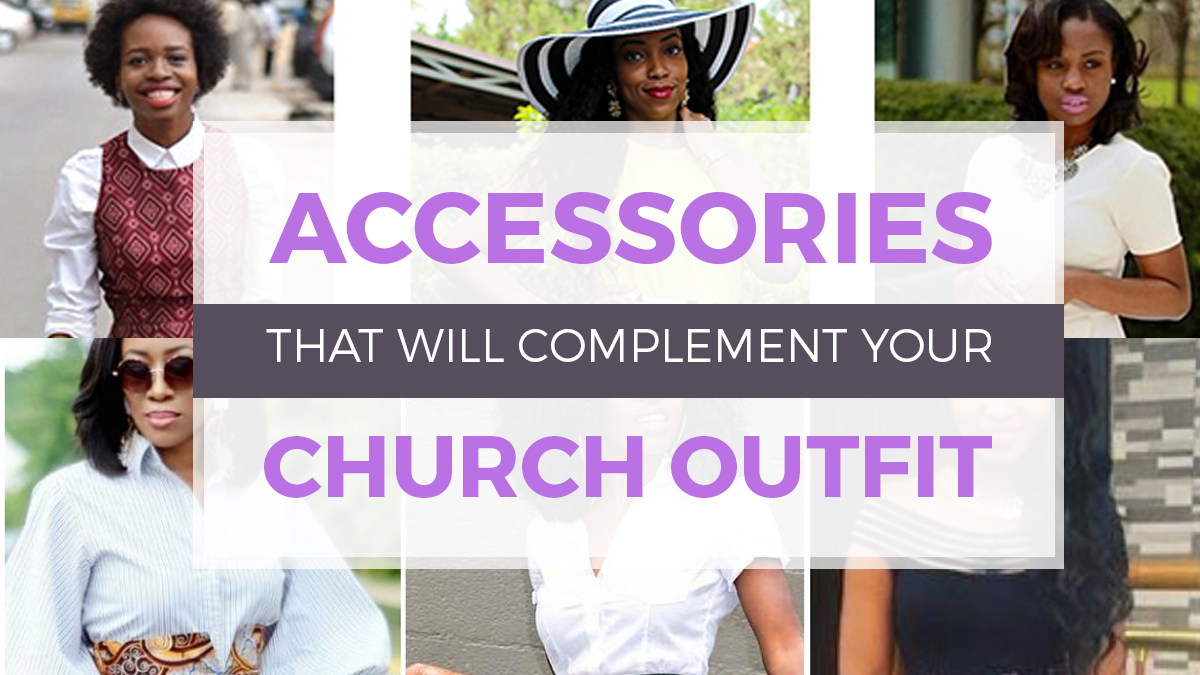 Dressing for church meetings entails you to wear your best and dress in such a way that is modest, fashionable, and appropriate. To select your church outfit, you need to take cognizance of the set values and doctrines of your church concerning outfits.
The doctrines of your church matter a great deal when you want to select the outfit you are picking for church. Some churches condone their women wearing transparent dresses and miniskirts/gowns. If that is the case of where you worship, then it is proper to adhere strictly to the laid down rules of your church concerning church wears.
Asides from clothes, it is fashionable to add one or two pieces of accessories to your church dressing. These accessories help to highlight, complement and also help to improve the looks of the wearer when going to the church.

The following are examples of the accessories that you can blend with your church outfits, to give you that classy, godly, modest, and fashionable churchy look. Bear it in mind that these accessories are not gender or age biased, they are unisex accessories that can be worn by both male and female, of different age grades.

A scarf

Although some people see the scarf as a piece of clothing used to protect them from harsh weather, an also to keep them warm in winter, the scarf is also seen as a piece of fashionable neckpiece which can be worn stylishly around the neck to blend with your church outfit.

A belt

The belt is one of the most overlooked but important accessories to own. The belt is not only used to hold the clothes in place, but it is also a fashion object used to make fashion statements too.

For the ladies, you can rock it with a gown, jumpsuit, high-waisted jeans or skirts. For the men, we know how it goes, so match up your gorgeous suit pants with a befitting and gorgeous belt.

Gloves

Like the scarves, gloves are beautiful accessories that have moved up from being an item to keep you warm, to becoming a fashion accessory.

Ladies these days now complement their dressing for balls, dinners, and sometimes official events with gloves. Why not spruce up your church look with a beautiful pair of gloves.

Hats

There are some denominations where the covering of the head is fundamental and compulsory for the womenfolk if this happens in your church, it is all good as you can cover your head with beautiful hats that would go along with your outfits.

For women, hats won't only help you obey your church doctrine, it would help keep your hair away from damage, and also make you look so beautiful.

Be it a Panama, a wimple, beret, bowler, bonnet, topper, busby, Stetson, tam, beanie, or bearskin, there are lots of fashionable and modest hats in stores where you can get one for yourself.

Jewelry

The adornment of jewelry is used by men and women to define and add fashion effects to their outfits.

Jewelry helps to brighten and lighten our looks. This is why it is imperative to wear a piece of jewelry to blend your church outfit.

For the ladies, you have your earrings, neck chains, brooches, bangles, bracelets, and hairpins.

For the men, you can do bad with some neck chains, cuff links, wristwatches, rings, tie pins, and pendants. There are men who also love to adorn their wrists, you can add a piece of bangle on your other wrist without the watch.

Conclusion

Accessories and ornaments give life to our outfits and dressing, they add glamour and effects to our looks. If we can accessorize for other events, there is nothing stopping you from accessorizing for church events too. We have to look good and amazing for our Father's house. Even at that, modesty and decency is the watchword. Moderate accessorizing is key.