The Legendary Steve Harvey Collection
If you ever tuned in to The Steve Harvey Show or Family Feud on your TV, then you most likely know the legendary comedian and artist by that name. More than his shows and the movie acting skills, he has shown outstanding trademark by his suit collections. Amidst online personalities of our generation, Steve Harvey is an unforgettable face on TV shows and movies altogether. Steve Harvey's connection with his audience begins with his appearance in an exquisite fashion suit style that has become synonymous with the name.

The Steve Harvey Clothing line is not only a reflection of Steve's style but also says volume about his personality and endears his fans to him. It has also influenced the men's fashion so much that in recent times, men's formal dressing can now take several cues from the iconic fashion style. Steve setting up a fashion line also implies that he can create an impressive monument that will outlive him and write his name forever in the sand of time.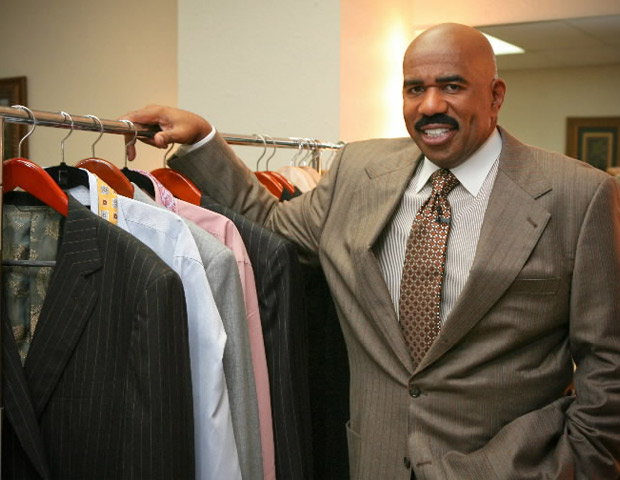 Celebrity dressing is a selling point of modern fashion, in that it gives room for unique flavors that can beat the ever-changing fashion trends. In other words, the most consistent way to maintain a high taste of fashion is to tailor styles after unique celebrities to create treasured brands altogether. That, however, has a limit and pattern.

The fantastic personality of Steve Harvey is, first of all, very charming, adding to a captivating smile and a uniqueness of the style and character expression. Some of the elements of the Steve Harvey collection include the;

Classic 3-piece suits
Double-breasted suits
Standard and Wide-legged pant high fashion Suits
Special tuxedos
Semi-casual suits
Afterward, just as Steve exported his elegance into a brand for men's suits, others can grow in confidence in their choice of style. With a careful exploration of the Steve Harvey collection, buyers can dress up in combinations they can be known for when stepping out into any occasion. At the same time, it creates a market for the clothing line with both physical and on-air audience who needs to search no further.

At designerchurchsuits.com, we offer a fantastic collection of Steve Harvey suits with the combination of inner jackets, ties, pocket-pieces, and other modern accessories for exclusivity. For instance, long before now, a school of thought assumed that the color of pocket pieces (squares) must match the ties. But the Steve Harvey brand turned that around and began to show off the distinction between the two elements.

Now, the quality of the collection, variety, texture, designs, and well-cut edges form the future outlook that drives the fans' passion towards the brand. You will find from our collection that we maintain the same impression and attempt to do more to showcase the uniqueness of suit styles with irresistible Steve Harvey collection.